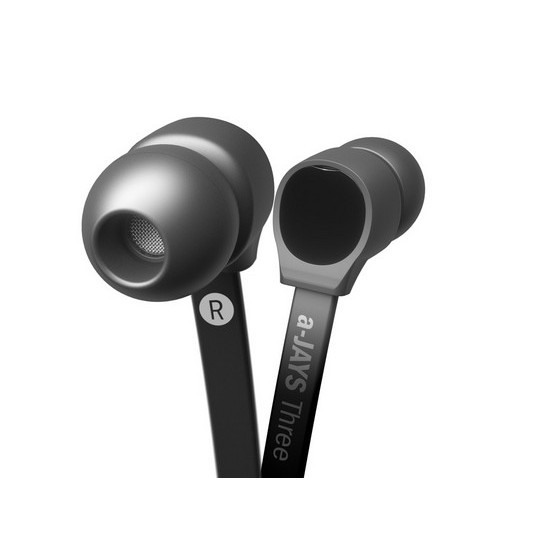 Jays A-Jays Three Black
49,90 €
Tilapäisesti loppu
Upgrade your music experience with the popular, award-winning a-JAYS series. By developing their products in-house, Jays deliver an award-winning music experience combined with great design and high durability. Building on the success of their predecessors, the a-JAYS Three earphones emphasize the details, from the balanced sound to the sleek black rubber coating and finish.
Hear more. Feel more. – Look no further if you like your music with a solid, punchy bass complemented by crisp high notes. To improve the a-JAYS Three, Jays team of engineers focused on creating a balanced sound and an extended frequency range, so you can appreciate the low notes as well as the high ones; and everything in between. With a comfortable in-ear fit for the a-JAYS Three, enjoying great sound on the go has never been more affordable.
Effective noise-isolation – The noise-isolating silicone sleeves let you enjoy a rich and fulfilling music experience even in noisy environments without straining your ears or turning up the volume. These comfortable silicone sleeves effectively seal in sound and block out ambient noise, which means that you get to enjoy clearer sound at the same volume.
Accessories seal the deal – The a-JAYS Three earphones come packed with a range of useful accessories to enhance your music experience. With 5 sizes of silicone sleeves, choose the pair that fits you most naturally. These soft, washable silicone sleeves isolate noise by creating a seal, and they rest comfortably in your ear canals for long periods of use. Jays know how important good sound is while traveling, which is why you get an in-flight adapter, a stereo splitter to make sharing music with your friends easier, and a travel case to keep your earphones and accessories safe and secure. No matter where you are, just sit back and enjoy your music.
Lisätiedot
| | |
| --- | --- |
| Väri | |
| Kaapelinpituus | |
| Taajuusvaste | |
| Impedanssi | |
| Kaiutinelementinkoko | |
| Liitäntä | |
| Herkkyys | |
| Muut | Passiivinen kohinavaimennusSilikoniset korvatyynyt erikokoisinaLaadukas bassontoistoEnsiluokkainen äänentoistoSotkeentumaton litteä johto |
| Tuotemerkki | |