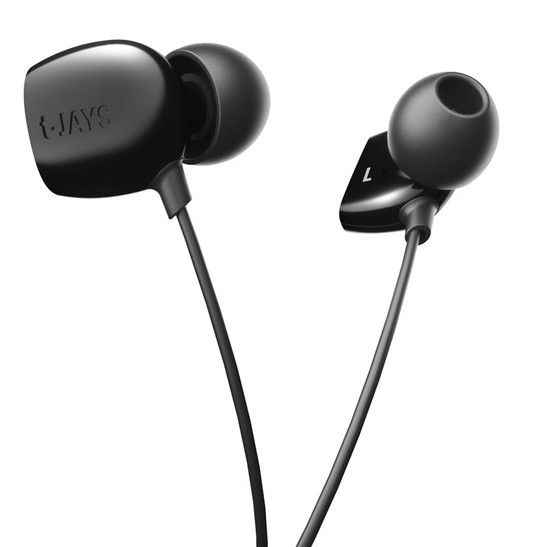 Jays T-Jays One Black
45,90 €
Tilapäisesti loppu
Engineers designed the first of the t-JAYS series, the t-JAYS One, with one goal: to capture the magic of a live performance experience. With rich audio details and a wide soundstage, t-JAYS One earphones bring you closer to your music.
Taking you closer – Music touches us emotionally. That?s why we set out to create an inspiring and touching music experience based on a full-bodied sound. Whether it?s a newly discovered artist or your favorite tracks, t-JAYS One earphones lets you experience sound like never before: up close and personal with every note.
Effective noise-isolation – Enjoy a rich and fulfilling music experience even in noisy environments with our noise-isolating silicone sleeves. These comfortable sleeves are designed to effectively seal in sound and block out ambient noise, which means that you get to enjoy better and clearer sound without turning up the volume.
Accessories seal the deal – t-JAYS One earphones come with 5 sizes of silicone sleeves. Choose the pair that fits you best. These soft, washable sleeves were made to rest comfortably in your ears even for long periods of use. In addition to the standard 24-inch (60cm) earphone cable, you also get a 28-inch (70cm) extension cord for you to adjust the cable length to your preference.
Lisätiedot
| | |
| --- | --- |
| Väri | |
| Kaapelinpituus | |
| Taajuusvaste | |
| Impedanssi | |
| Kaiutinelementinkoko | |
| Liitäntä | |
| Herkkyys | |
| Muut | Passiivinen kohinavaimennusSilikoniset korvatyynyt erikokoisinaLaadukas bassontoistoEnsiluokkainen äänentoistoSotkeentumaton litteä johto |
| Tuotemerkki | |